Cosimo Cavallaro, the artist behind last spring's "Chocolate Jesus" controversy, will display the sculpture in a show at the Proposition Gallery in Chelsea timed to coincide with All Saints Day (Nov. 1).
The life-sized sculpture of Jesus will be part of Cavallaro's "Chocolate Saints...Sweet Jesus" show, in addition to eight chocolate sculptures of Catholic saints.
Invitations to the art show feature an image of the Virgin Mary with the breasts enhanced by scratch-and-sniff technology.
"It sounds pretty sick," said John Horvat, a spokesman for the American Society for the Defense of Tradition, Family and Property (ASDTFP). "Obviously [Cavallaro] has an agenda. He's targeting very revered religious figures."
The gallery director, Ronald Sosinsky, begs to differ. "I see it as basically a show about healing. The sculptures are extremely traditional when you see them in their use of material. When you first see them they look like bronzes."
Last March, Cavallaro's "My Sweet Lord" sculpture created a furor when it was displayed in a window at the Roger Smith Hotel in midtown.
Made of chocolate, My Sweet Lord is an anatomically correct representation of Jesus, sans loincloth. The sculpture set off howls of protest from the likes of Cardinal Edward Egan and other prominent Catholics.
A spokesperson for the Catholic League commented, "The timing was appalling. That was an up-front assault on Christian sensibilities during Holy Week."
The spokesperson added that the Catholic League will not protest Cavallaro's upcoming exhibit because it will be limited to an art gallery where people "expect and like that sort of thing."
Cavallaro has kept the location of his My Sweet Lord sculpture under wraps due to the many threats he has received from angry Christians. He recently repaired the sculpture, which had been ravaged by rodents.
The artist insists that he is not trying to be sensational or provocative.
"When I wake up in the morning everything relates to food. I accepted the world of food and ever since then I've been a lot freer," said Cavallaro, who hopes the chocolate Jesus sculpture will bring attention to the fragility of life and the lived experience of Christ.
"Depictions of Jesus in plastic or wood are what I find offensive," he said. "With my work, you don't want it to melt, so you have to be more aware of the time you have with it. It's more alive."
Chocochrist.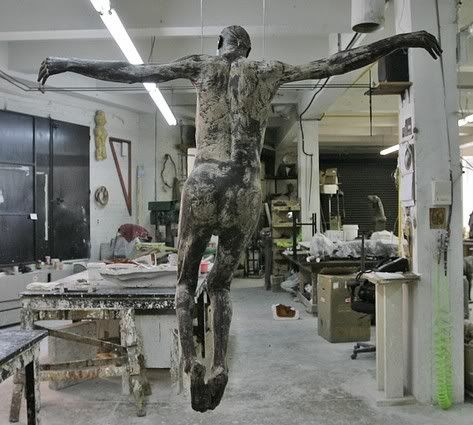 My Sweet Lord.